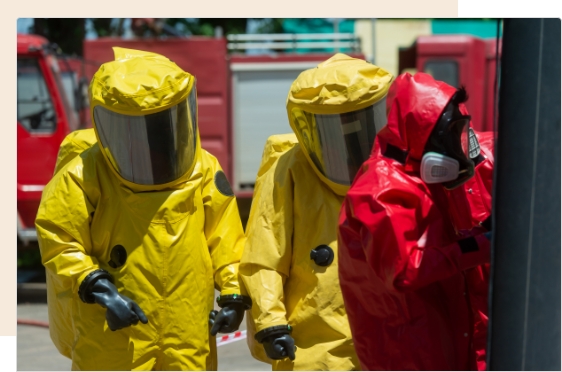 Industrial Consultants, LLC offers several different courses pertaining to Hazardous Materials Response methodologies and being compliant with the OSHA CFR 1910.120.  The following courses are intended for those facilities containing chemicals on the extremely hazardous chemical list. The chemicals on this list require emergency response preparations be made to protect the community, environment and employees at the facilities. 

An example of this type of chemical is anhydrous ammonia which is used by many facilities for refrigeration of food products that are produced or distributed. Therefore, we offer the following courses in an effort to meet safety and federal or state OSHA and EPA regulations: 
Hazmat Training for Emergency Responders
24 Hour Emergency Responder

This course focuses on ensuring the safety of those who have chosen to participate in a chemical emergency response at their respective facilities. 
This course is intended to refresh the emergency response technicians on an annual basis. Required by OSHA CFR 1910.120 to maintain competency.
Other Hazmat Training Services
8 Hour Incident Commander Training

this course gives those in attendance an understanding of PPE, terminology and other information as required by OSHA in the 1910.120 regulation. 
The staff of Industrial Consultants, LLC have the expertise, knowledge and skills to prepare your facility for many types of emergencies.  The experience of our staff comes from OSHA regulation training, technical training, enforcement research and previous background employment experience that qualifies each instructor to prepare your personnel to work together during an emergency response situation.
Training At Your Facility
The classes listed above can be conducted at your facility using your equipment, or regionally at specific locations that offer the required training for those who will be working with the local fire departments and LEPCs near your facilities. 

Get A Free Virtual Compliance Check-UP
Not sure where to start? We're here to guide you in the right direction. Staying compliant not only saves time and money, it can save lives. Let us help you get started.
Read Our Latest Hazmat Insights